World's First 3D Bioprinted Live Ear Implant | The Entrepreneurial story of 3D Bio Therapeutics KellyOnTech
Posted by

Date

July 14, 2022

Comments

0 comment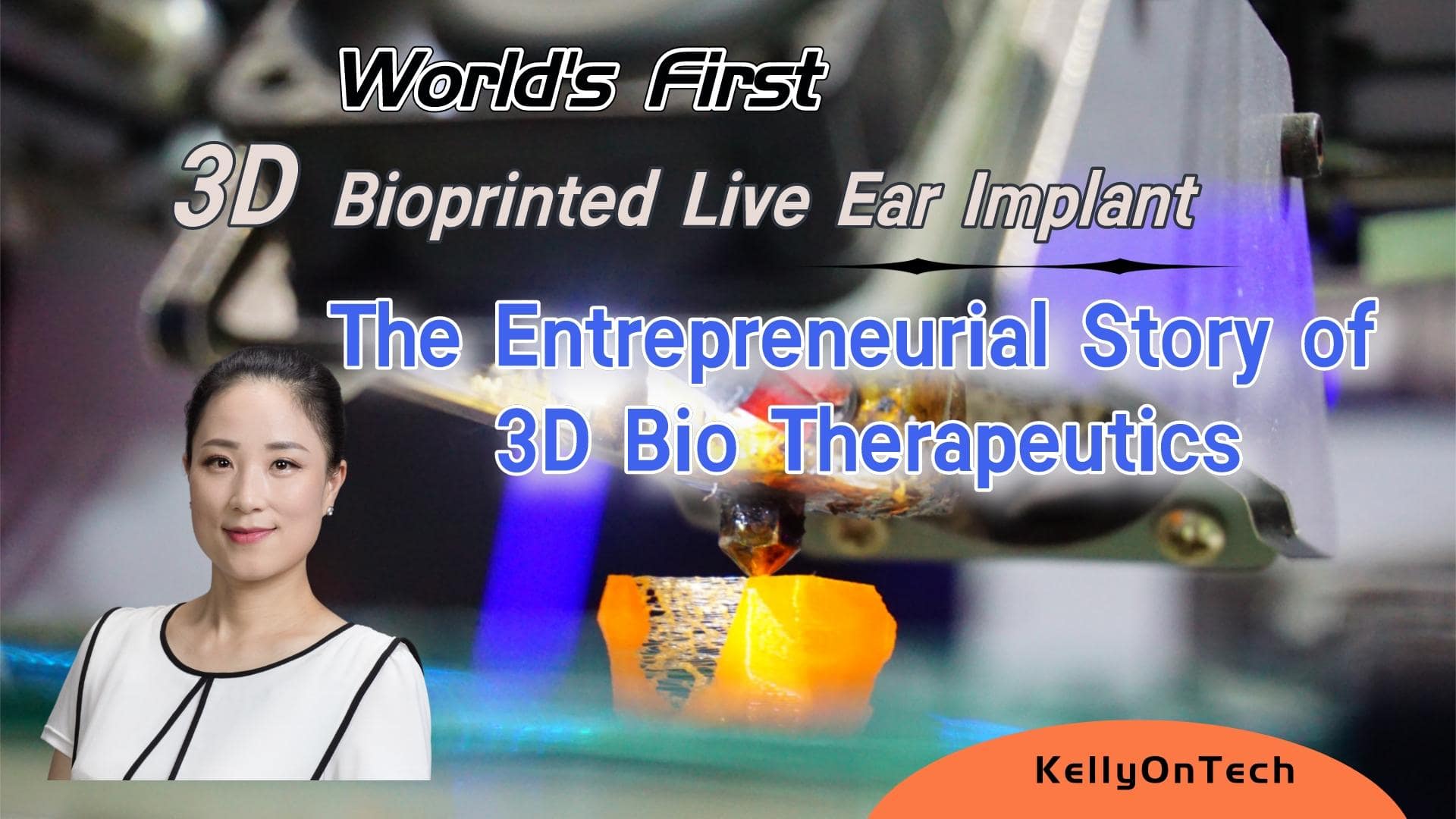 In this episode, let's talk about the recent big event in the field of 3D bioprinting. This has always been an area of interest to me because it is an industry that brings hope to people.
3D bioprinting is a branch of regenerative medicine that uses 3D printing-like techniques to create mimics of natural tissue from cells, growth factors and/or biomaterials. Bioinks are used in biomaterials. Bioinks are printable materials containing living cells, most of which are water-rich molecules called hydrogels, mixed with various chemicals that promote cell growth and communication.
In early June 2022, there was a breakthrough in the field of 3D bioprinting. For the first time, a 3D printed ear made of living tissue was implanted in a 20-year-old woman from Mexico. This patient suffers from microtia, a rare congenital defect. It not only affects the appearance and hearing, but also greatly affects the self-confidence of patients.
Which company brings new hope to patients?
The company is called 3D Bio Therapeutics, a regenerative medicine clinical-stage biotechnology company founded in 2014. It develops 3D bioprinting and material technologies for the treatment of disease and congenital diseases to deliver safe, functional and personalized living tissues and organs, tailored to patients. The company is also the first to implant 3D bioprinted living tissue into patients.
Why can this company solve the medical challenge of 3D printed living transplants?
The company's technology focuses on regenerative medicine, solving medical challenges through custom-designed 3D printed living implants. 3D Bio Therapeutics develops living tissue implants with structural and functional integrity through its patented four-part technology platform, include:
3D bioprinters
bioinks
specialized cell culture systems — to grow living tissue implants with structural and functional integrity.
implantable protective shells — to protect living implants and, thus providing the best treatment results for the patient.
Who founded 3D Bio Therapeutics?
Daniel Cohen, CEO and Co-Founder of 3DBio Therapeutics
Daniel Cohen received his B.S., M.S. and Ph.D. in Mechanical Engineering with minors in Biomedical and Electrical Engineering from Cornell University. He received a National Science Foundation Graduate Research Fellowship and a Department of Homeland Security Graduate Fellowship. Prior to founding 3DBio, he spent four years at McKinsey learning how to commercialize technology projects.
Dr. Lawrence Bonassar, Co-Founder of 3D Bio Therapeutics
Dr. Lawrence Bonassar joined Cornell University in 2003 after five years teaching at the Center for Tissue Engineering at the University of Massachusetts Medical School. He completed postdoctoral research at the Massachusetts General Hospital Orthopaedic Research Laboratory and the MIT Centre for Biomedical Engineering.
He currently serves on the editorial board of the Journal of Tissue Engineering. This 2022, he received the 2022 Kappa Delta Anne Doner Vaughn Award for his research on the microscale mechanics and composition of articular cartilage and its relevance to musculoskeletal disorders. The Kappa Delta Award recognizes research on musculoskeletal disorders or injuries that have great potential to advance patient care.
Hod Lipson, Co-Founder of 3D Bio Therapeutics
Hod Lipson received his Ph.D. from the Technion-Israel Institute of Technology in 1999, followed by postdoctoral research at Brandeis University and MIT. He was a professor at Cornell University for 14 years and moved to Columbia University in 2015 as a professor of mechanical engineering and data science.
The Entrepreneurial Story of 3D Bio Therapeutics — Nothing happens overnight
The project started as early as 2000. Daniel Cohen was an undergraduate student working on 3D printing of non-traditional materials in the lab of Hod Lipson, a robotics expert who builds autonomous robots. Lawrence Bonassar is a bioengineer who had implanted cartilage shaped like a human ear into the backs of rats in 1997. He came to Cornell University in 2003. The three hit it off, and after more than a decade of research, an early version of the 3D bioprinted ear was created using collagen derived from animal cartilage cells.
After Daniel Cohen received his Ph.D. in 2010, he decided to join management consulting firm McKinsey to learn how to commercialize technology projects. Four years later, they co-founded 3D Bio Therapeutics. It took 22 years from the beginning of the project to the successful implantation of the 3D bioprinted living ear this year.
After the 3D bioprinted living ear is implanted, a proof-of-concept is needed on its biocompatibility with the patient and whether the shape of the ear can be maintained.
The ear is a relatively simple external organ of human beings, and there is still a long way to go before 3D bioprinting internal organs, such as heart, liver, and kidney.
All things do not happen overnight. I hope that our fellow entrepreneurs in the tech circle can always maintain your originality, endure loneliness, stand the test and forge ahead.