Why did Elon Musk complain about LiDAR? Introducing AEye KellyOnTech
Posted by

Date

August 3, 2022

Comments

0 comment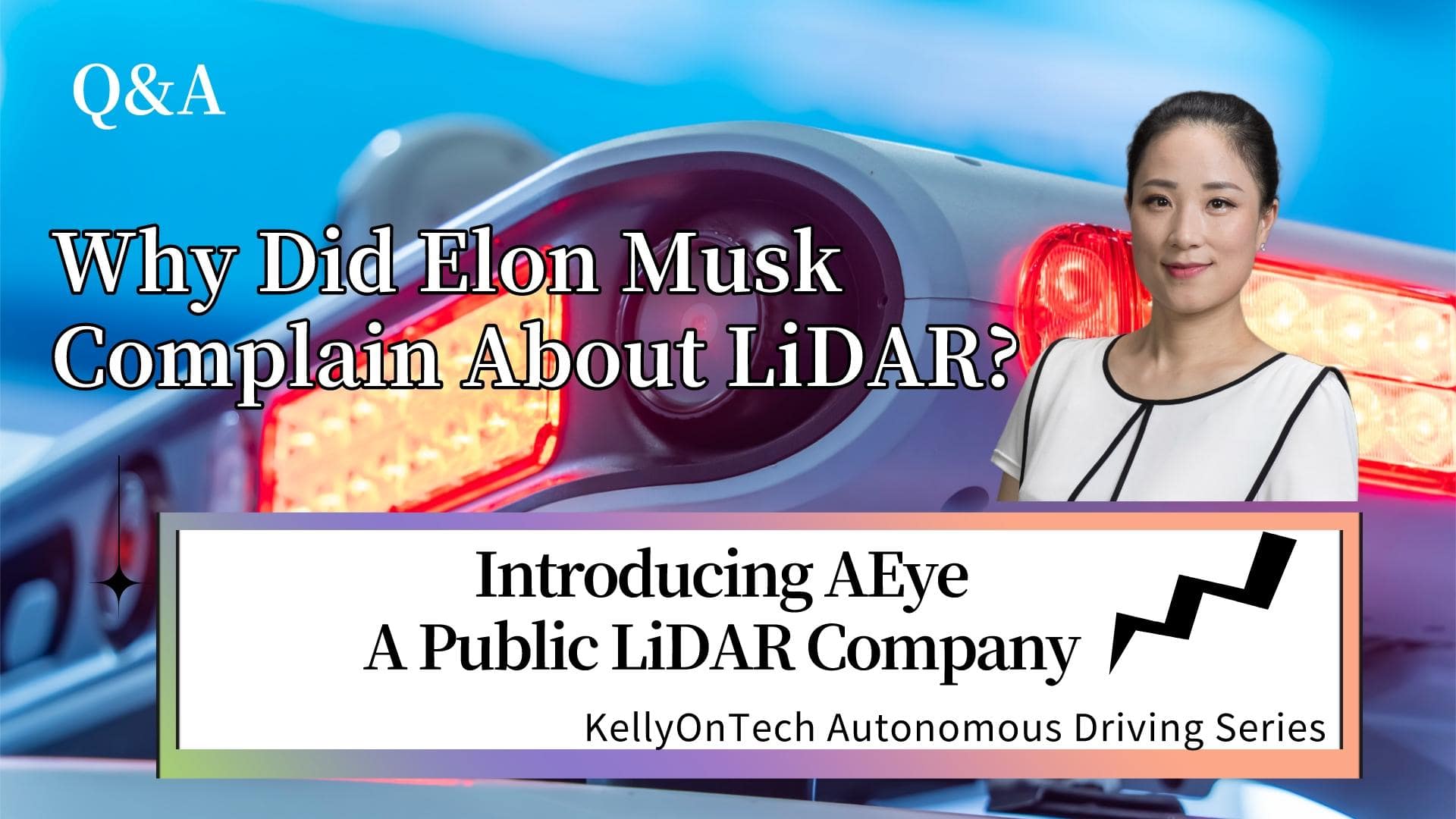 What is the strategic core of self-driving cars? It is vision technology. In this episode, let's talk about LiDAR. Many of the world's most advanced autonomous vehicle projects are focused on developing LiDAR sensing systems
In 2018, Uber agreed to pay $245 million to settle with Waymo after Uber and Waymo, the self-driving project owned by Google's parent company Alphabet, were in court over the theft of LiDAR secrets.
What are the advantages of LiDAR?
LiDAR is simply a light sensing technology that uses a laser and a receiver to create a 3-D map of the vehicle's surroundings. If fully autonomous driving is to be achieved, the use of LiDAR allows for more effective avoidance before a vehicle collision occurs.
Cameras have good resolution and colour information, but are much less effective in poor lighting conditions or in bad weather conditions.
According to Luis Dussan, Founder and now CTO of AEye, even in great lighting conditions cameras have contrast instabilities. For Example, a white clothed person in front of a white wall can be hard to impossible to detect. Cameras also have range/object ambiguity, for example a bike on the back of a semi-truck looks like a bicyclist to a camera computer vision algorithms even if it is just a picture.
Radar has good performance in adverse weather conditions, but does not provide sufficient range resolution, nor does it handle the certainty of object position due to multipath very well.
LiDAR fills these performance gaps and is currently the only sensor that can provide the deterministic location of obstacles in front of the vehicle. Using LiDAR can help a vehicle's path planning system make safer driving decisions.
Why did Tesla's Elon Musk complain about LiDAR?
Musk publicly complained in 2019: "LiDAR is a fool's errand, and anyone relying on LiDAR is doomed." Currently Tesla cars use the "Tesla Vision System" based on 2D cameras.
One of the reasons is because the price of LiDAR is expensive. In the year, a 64-line LiDAR that could meet the needs of the L4-level autonomous driving cost $80,000 to $100,000, more expensive than a Tesla Model 3 at the time.
Another reason is technical issues. According to Luis Dussan, Elon believes that cameras with brains (CPUs) can act like people, so he thinks liDARs are unnecessary.
Introducing AEye, A Public LiDAR Company
Is there any company that can solve the above technical problems? Yes, today let me introduce AEye, a company established in 2013 funded by investment institutions including Kleiner Perkins and General Motors (very connected to SAIC) as their lead investors with Intel and Airbus following on.
AEye has created the iDAR™ (Intelligent Detection and Ranging) platform for vehicle autonomy, ADAS and robotic vision. It provides a more reliable robot perception system than human vision.
For example, iDAR can selectively revisit any selected object twice within 30 microseconds, a 3,000x improvement in efficiency.
They can also do instantaneous resolution enhancements. So when they detect an object that has only a few points they can quickly revisit the object before it has moved even a cm and super resolve it. Currently they are the only ones with that capability. Thanks to Luis for the demo video.
AEye's path to IPO
AEye went public on NASDAQ in August 2021 through a merger with CF Finance Acquisition, a SPAC special purpose company.
Combining high dynamic spatial resolution and extreme long-range detection capabilities, AEye LiDAR maximizes support for passenger car and commercial vehicle applications, and can detect vehicles up to 1,000 metres away.
Who founded AEye?
The founder and CEO of AEye is Luis Dussan, who received his undergraduate degree in Electrical and Computer Engineering from the University of Texas. After graduation, he joined NASA's Jet Propulsion Laboratory as an engineer. Later, he joined Lockheed Martin as a staff engineer, responsible for research in adaptive optics, remote sensing, ultrafast lasers, algorithm development, and control software. During this period, he pursued two master's degrees at the University of Central Florida, one in laser and optical detection, and the other in quantum optics. In 2011, he started his PhD in computer physics with a concentration in quantum communications, quantum entanglement and condensed matter physics.
In 2014, he founded AEye. In October 2020, AEye changed management, appointing Blair LaCorte as Chief Executive Officer (CEO), and the Founder Luis Dussan became the company's President and Chief Technical Officer (CTO). Luis wants to spend more time developing advanced vision hardware, software and algorithms that act as the eyes and visual cortex of self-driving cars.
What is the current status of AEye?
AEye's stock price was $1.8 on June 29, 2022, down 85.9% from its IPO. One of the reasons is that AEye has not been profitable. In addition, it is not enough to rely on LiDAR alone to build the perception system of self-driving cars. Autonomous vehicles require fast, accurate and complete perception systems.
AEye adjusted their business model and has partnered with Continental Group, a German-based multinational automotive components company. Their AEye based long-range LIDAR system is expected to be in production by 2024.
Summary
Autonomous vehicles require fast, accurate and complete perception systems. This is a system-level problem that requires a system-level solution, such as the vehicle-road collaboration solution proposed by Baidu. However, according to Luis Dussan,
Vehicle-road collaborations are great in thought but the problem is that infrastructure is very expensive and very permanent if a new innovation comes along and makes it obsolete. So those infrastructure plans tend to be too early and risky to design at this point in time.
This happens to be a good time for Chinese companies. Some called 2022 the first year of LiDAR popularity in China. According to reports, 14 of the 20 vehicles expected to be launched in 2022 in China are expected to be equipped with LIDAR, and 14 of them are expected to be equipped with domestic LIDAR solutions.
As technology continues to advance, if the size, weight and cost of in-vehicle navigation-grade LIDAR can be further reduced, the market will be huge, so let's wait and see.