Is your plane fueled by waste oil? Demystify Sustainable Aviation Fuel KellyOnTech ESG series
Posted by

Date

July 10, 2023

Comments

0 comment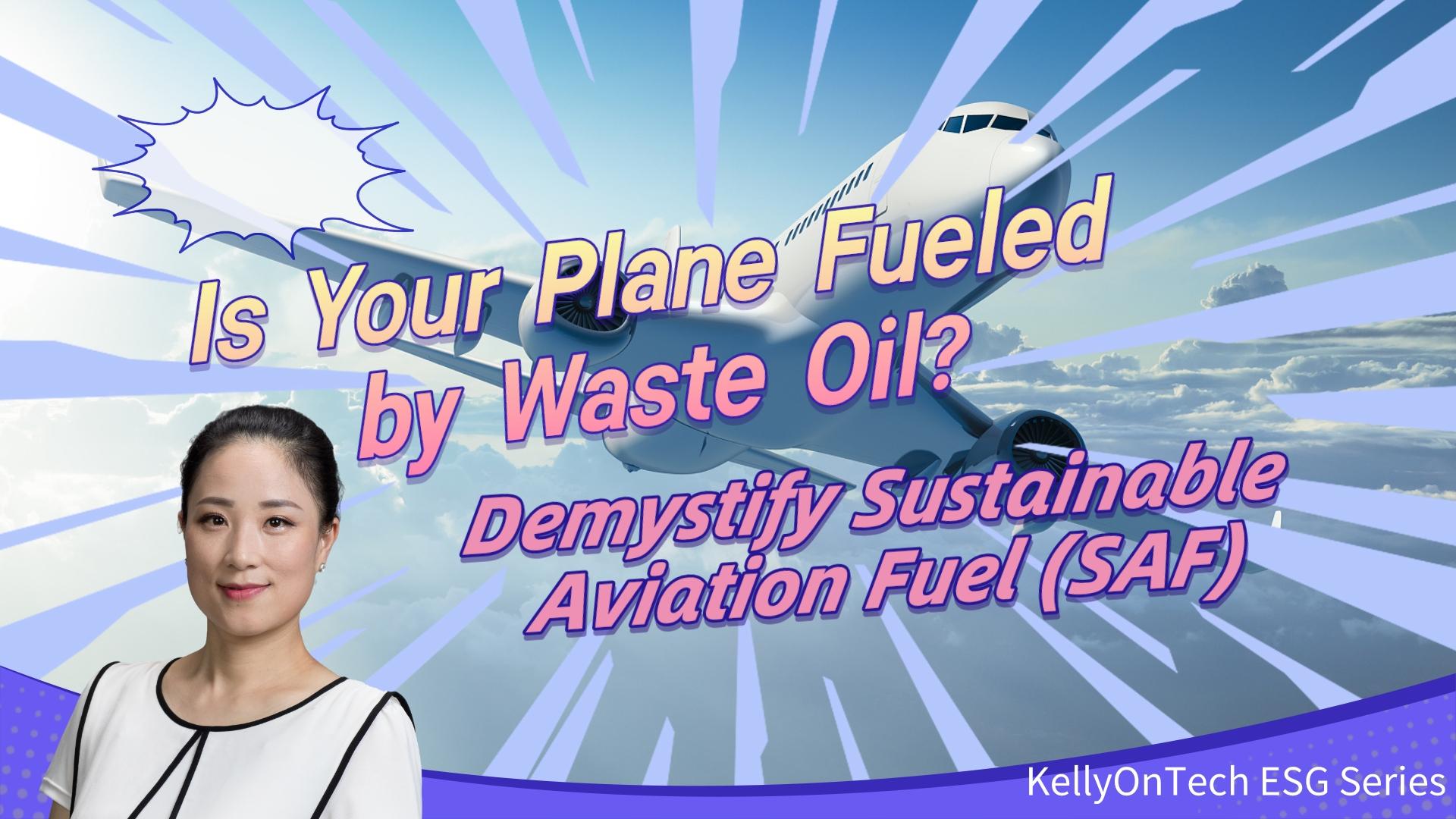 A New Aviation Milestone
You could witness a new aviation milestone by the end of 2023! A flagship Boeing 787 jet from Virgin Atlantic Airways is scheduled to operate the world's first transatlantic flight at the end of this year, achieving "net zero" carbon emissions. The aircraft will fly from London Heathrow to New York JFK and will be powered entirely by Sustainable Aviation Fuel (SAF).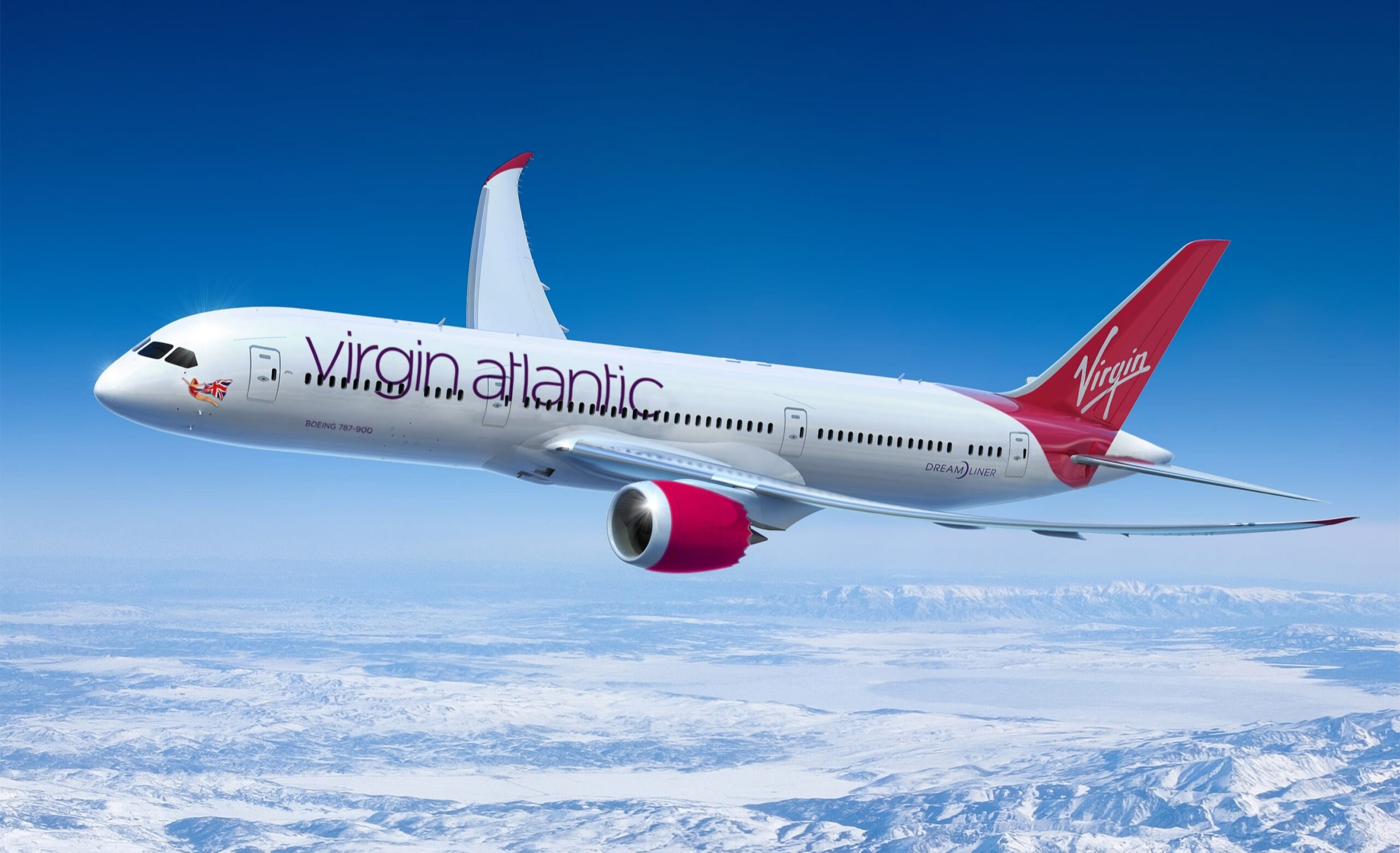 Your Plane May Be Fueled by Waste Oil
The use of Sustainable Aviation Fuel (SAF) has been on the rise worldwide in recent years;But what exactly is it?
SAF is the abbreviation of Sustainable Aviation Fuel. It is sustainable because its raw materials will not compete with food crops or water resources, nor will it cause forest degradation.
Sustainable aviation fuel is one of the fastest and most effective ways that the aviation industry is currently responding to the need to reduce carbon emissions. It can turn waste into valuable products that include waste oil and various solid wastes, such as wrapping paper, food scraps and textiles, etc.
Why We Need to Accelerate the Use of SAF
The primary source of carbon emissions from aviation is the combustion of jet fuel, which comes from petroleum. It releases carbon dioxide (CO2) as well as other greenhouse gases such as nitrogen oxides (NOx) and water vapour. In order to slow down the global warming effect and achieve the goal of net zero emissions by 2050, the aviation industry urgently needs to use alternatives to jet fuel.
Sustainable Aviation Fuel (SAF), a renewable alternative to fossil fuels, can be blended with conventional jet fuel for use in existing aircraft using a variety of conversion technologies, without engine or infrastructure modifications. Of course this low-carbon fuel can also be a complete replacement for traditional fossil fuels.
According to estimates from the International Air Transport Association (IATA), Sustainable aviation fuel (SAF) could contribute around 65% of the emissions reductions the aviation industry needs to reach net-zero emissions by 2050.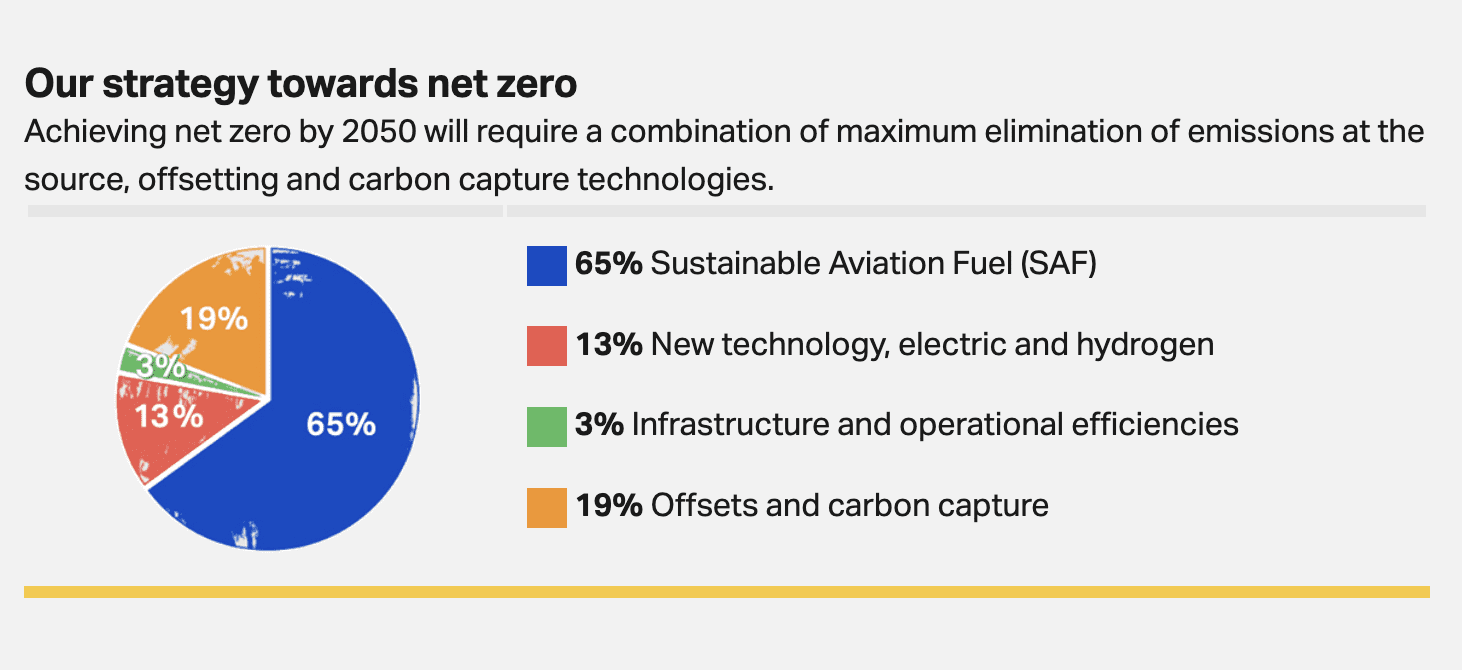 Who Produces Sustainable Aviation Fuel?
There are several broad categories of companies that produce sustainable aviation fuel globally.
One is the major energy companies such as Shell, BP, Total Energies, China National Petroleum Corporation, Sinopec, China Aviation Fuel Group (CNAF) and others who are actively developing and producing SAF to reduce costs and increase availability.
The other category is specialized renewable fuel producers such as Finland's Neste, US-based renewable chemicals and advanced biofuels companies Gevo and World Energy. The latter is currently one of SAF's largest suppliers.
Another category is multinational companies, which actively promote sustainable aviation fuels through their global R&D teams and channel resources. Take Honeywell as an example here.
Honeywell launches Innovative Solution for Sustainable Aviation Fuel — UOP eFining Technology
Honeywell recently announced the launch of its innovative UOP eFining technology, an off-the-shelf solution for producing low-carbon sustainable aviation fuel (SAF). It is a methanol-to-jet fuel (MTJ) processing technology that enables the reliable and large-scale conversion of e-methanol (eMethanol) to e-sustainable aviation fuel (eSAF). This technology produces high-yield eSAFs at a lower cost than comparable technologies.
Honeywell claims that its UOP eFinning can reduce greenhouse gas (GHG) emissions by 88 percent compared to conventional jet fuel. When blended with conventional jet fuel, eSAF is a direct alternative fuel that requires no changes to aircraft technology or fuel infrastructure.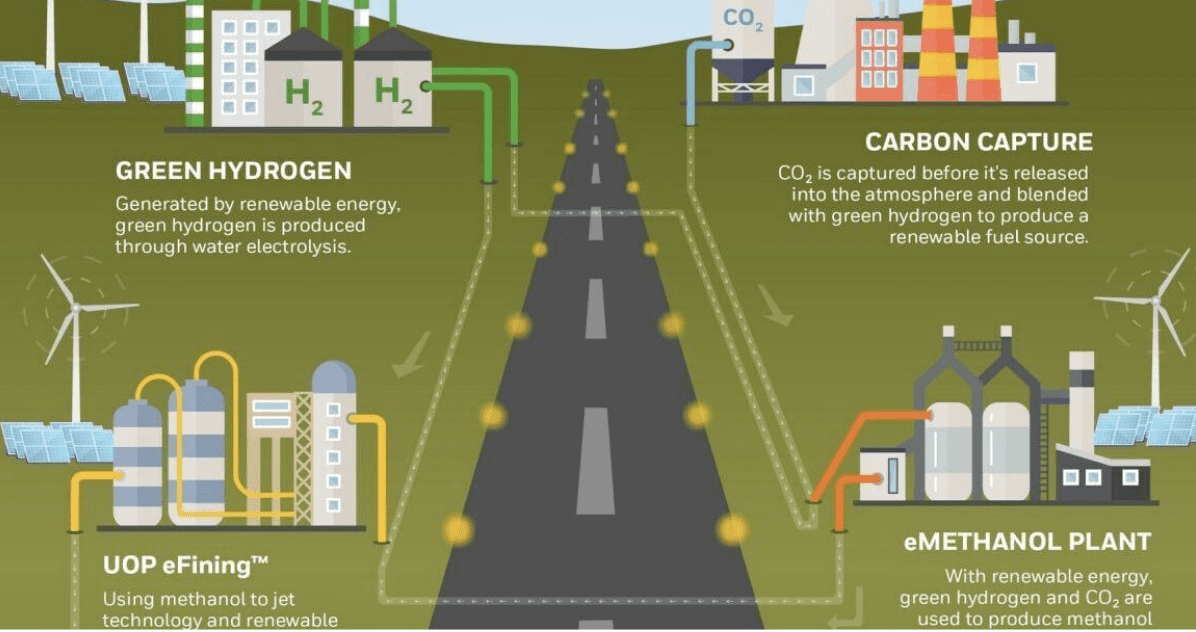 The company hopes to increase the production of sustainable aviation fuel by using green H2 and CO2 production, enabling the aviation industry to meet its decarbonization goals in a more timely manner. In addition, Honeywell added UOP eFining to its existing Ecofining and ethanol injection technologies to meet rapidly growing demand for renewable fuels. Current customers include the Singapore Armed Forces and United Airlines, among others. United Airlines is the first airline in the world to use sustainable aviation fuel (SAF) in its regular operations.
What New Plans Does Honeywell Have
Honeywell will further cooperate with its first commercial customer, HIF Global (Highly Innovative Fuels Global), to convert recovered CO2 into useful feedstock to replace fossil fuels in aviation, which are very difficult to reduce. HIF Global is an international electric fuel company founded in 2016 by AME, the fifth largest power plant in Chile, and backed by German automaker Porsche AG, one of the most profitable automakers in the world.
HIF Global expects to deploy the solution at its second commercial-scale electric fuels (eFuels) facility in the United States. The HIF eSAF project is expected to be the largest eSAF facility in the world, recovering approximately 2 million tons of captured CO2 and producing approximately 11,000 barrels of eSAF per day by 2030.
Additional Information — What Are eFuels
Electric fuels or eFuels are clean, carbon-neutral fuels produced from renewable green hydrogen and carbon dioxide extracted from the atmosphere. eFuels have the same chemical properties as fossil fuels and can therefore be used as a direct replacement for existing engines and infrastructure without any modifications.
What Is the Market Outlook for SAF
In 2021, the Biden administration announced the Sustainable Aviation Fuel Grand Challenge for the US aviation fuel supply sector, which is to produce at least 3 billion gallons of SAF per year by 2030, equivalent to 11.36 billion litres, and to reduce aviation emissions by 20 percent. The ultimate goal is to use 100 percent SAF for U.S. aviation fuel by 2050.
"Fit for 55" refers to the package proposed by the European Commission in July 2021. The plan is part of the EU's wider aim to achieve climate neutrality by 2050 and to reduce greenhouse gas emissions by at least 55% compared with 1990 levels by 2030. The name "Fit for 55" reflects EU policy A target consistent with the 55% emission reduction target.
The European Council issued the ReFuelEU aviation rules as part of the "Fit for 55" plan, which aims to increase the share of sustainable fuels at EU airports from at least 2 percent by 2025 to 70 percent by 2050. "Fit for 55" refers to a package proposed by the European Commission in July 2021. The plan is part of the EU's wider aim to achieve climate neutrality by 2050 and to reduce greenhouse gas emissions by at least 55 percent by 2030 compared to 1990 levels. The name "Fit for 55" reflects the goal of aligning EU policy with the 55% emissions reduction target.
Currently, sustainable aviation fuels (SAF) are costly due to insufficient production capacity and immature supply chains, among other issues. However, with the further unification of governments' carbon reduction policies and industry standards, and the establishment of a mature and robust production and supply system, the widespread use of sustainable fuels will eventually become a milestone in the aviation industry. Let us wait and see!