Explaining the self-driving technology difficulty — Brain in a jar KellyOnTech AI Series
Posted by

Date

February 8, 2022

Comments

0 comment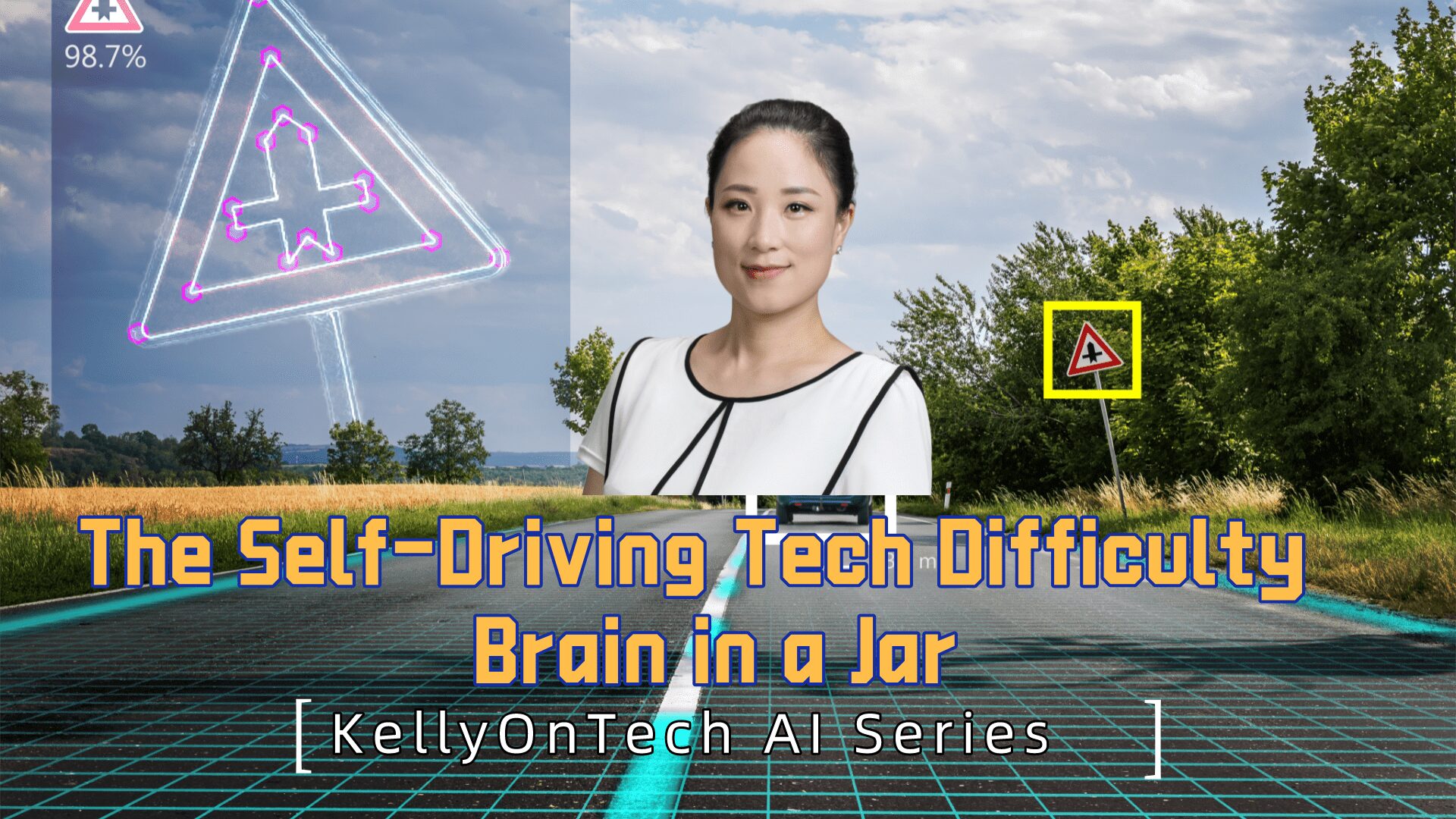 In the previous episode, I introduced one of the difficulties in achieving fully autonomous driving, which is to create maps for the machines. In this episode, I will continue to introduce another challenge for autonomous driving, known as a brain in a jar problem.
What are the problems with current AI solutions?
Many of the commonly adopted AI solutions on the market today effectively ingest large data sets, run algorithms and generate reports, recommendations or visualizations for employees to take action. In other words, they operate like a brain in a jar: each AI service is a separate brain in the jar, to which we input data and return answers. One brain recognizes images and the other interprets language. We can train a third brain to look for abnormal patterns in business data. Each of them is very good at what they do, but they know nothing about the world outside their own jar.
How can artificial intelligence make autonomous decisions?
I want to ask you first, how does the brain receive and transmit information?
You might have guessed, it is a neural network. In the brain, a typical neuron collects signals from other neurons through a series of fine structures called dendrites. The brain in a jar is equivalent to a brain without a nervous system.
How to add a nervous system to artificial intelligence? We can think of APIs and application networks as a neural system.
What is an API?
An API (Application Programming Interface) is a connection between computers or between computer programs. It is a software interface that provides services for other software. Documents or standards describing how to establish or use such connections or interfaces are called API specifications. The role of an API can be roughly compared to that of a waiter in a restaurant. When you order a meal in a restaurant, the waiter takes your order to the back kitchen, and when the chef is done, the waiter brings the dishes to you. The waiter acts as a connector between you and the back kitchen.
When the number of APIs expands from 10, to 100 or more, it becomes very complicated to connect effectively. Current AI can analyze large amounts of data to advise humans in making final decisions. However, current AI is not yet aware of the large number of permutations, exceptions and variables. It is challenging to make fully autonomous decisions based on the real-time data collected.
Is there a company focused on designing autonomous driving systems?
Here I want to introduce Drive.ai, a company that designs autonomous driving brains. Drive.ai is headquartered in Mountain View, California. It was founded in 2015 by former graduate students working in the Stanford University Artificial Intelligence Laboratory, which is managed by the well-known artificial intelligence expert Andrew Ng.
Founder of Drive.ai — Carol Reiley
Carol Reiley is a pioneer in remote control and autonomous robotic systems for self-driving cars. She is the first female engineer to be featured on the cover of MAKE magazine, and has been recognized as a leading entrepreneur and influential scientist by Forbes and Quartz.
Carol is pursuing her PhD at Stanford University's Artificial Intelligence Lab. She is married to Andrew Ng. Andrew was a co-founder and head of Google Brain and was the former chief scientist at Baidu. The two tech gurus also have a different approach to showing their love. The wedding ring was 3D printed according to their own preferences, and their engagement news was announced in IEEE Spectrum, a journal published by the Institute of Electrical and Electronics Engineers.
Drive.ai is led by Singapore-based CGV Capital, other investment institutions include New Enterprise Associates, one of the world's largest venture capital companies, and Nvidia GPU Ventures. Apple acquired Drive.ai in June 2019. After the acquisition, Apple chose to close the company. The purpose of the acquisition was to leverage Drive.ai's technical talent and the company's 12 patents in the self-driving "control" category.
How is Apple's self-driving car progressing?
In May 2016, Apple invested US$1 billion in Didi Chuxing. In July 2016, Uber announced the merger of its business in China with Didi Chuxing, further expanding Didi Chuxing's presence in China. Didi Chuxing provides a large amount of data for Apple's self-driving car project in order to improve its self-driving algorithm.
Apple has added 23 new drivers for its self-driving car project recently, bringing the total to 137 drivers. But the number of actual autonomous vehicles in the fleet remains at 69. What's more, Apple hasn't applied for a permit that would allow the cars to drive themselves.
According to Bloomberg News, Apple's self-driving car project is at an early stage and will not be ready for launch until 2026–2028. You are welcome to leave a comment if you want to know other difficulties of autonomous driving.