What is the future trend of AI hailed by Forbes magazine? KellyOnTech AI Series
Posted by

Date

April 5, 2022

Comments

0 comment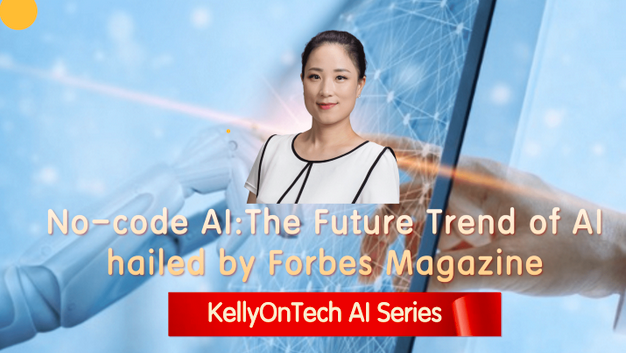 In this episode, let us return to our old topic of artificial intelligence (AI) and talk about No-code AI, which has been hailed by Forbes magazine as the future trend of AI.
Why is it so difficult to implement an AI solution?
Over the years, many tech companies have tried to implement AI solutions, but have faced many problems. For example, the high cost, the annual salary of data scientists has gone up. Analytics Insights has calculated that in the United States, Israel, Germany, Canada, the Netherlands and other countries, the average annual salary of data scientists is between 60,000–88,000 US dollars.
Some companies outsource to third-party companies, but algorithms and data scientists are not enough to make AI truly solve real-world problems. We did a fraud detection solution for a city bank in 2017, and although it was equipped with the world's top deep learning experts and data science team, the tasks such as data cleaning, parameter selection required the participation of subject matter experts with years of banking experience. According to a survey by Deloitte, 37% of managers simply do not have enough expertise to successfully implement an AI solution.
Are there ways to overcome these bottlenecks and make better use of artificial intelligence?
Yes, there is. That brings us to the main topic of this episode — no-code AI.
What is no-code artificial intelligence?
In fact, we are all familiar with "no code", which is to visualize those abstract and complex workflows, so that users without technical background can use these functions. For example, we can use the Shopify website to conduct e-commerce, create your own product pages, manage marketing campaigns and logistics. No need to build your own system.
No-code AI, on the other hand, is usually achieved through a custom-developed platform or model that user companies can integrate into their current technology stack to immediately use AI for a variety of activities, such as data classification and analysis, or to build their own proprietary AI models for specific business purposes.
Is there a difference between no-code AI and AutoML provided by Google?
AutoML is Google's cloud-based modeling package that currently includes vision (visual and video intelligence, the latter in beta) and language (natural language processing, NLP and translation) and structured data (tabular) capabilities.
AutoML in general already covers a lot of ground without code, but it is aimed at professional developers; No-code AI is for non-technical people.
Are there any startups focused on developing no-code AI solutions?
Yes, there are. Today I will introduce a startup called Levity.
Levity builds custom deep learning driven automated systems that can be built without code. These deep learning models are based on data for each of their users' specific use cases and can be developed without any prior domain knowledge or expertise. Founded in 2020, Levity is headquartered in Berlin, Germany.
Non-technical staff using Levity's system can create their own AI-driven automated workflows in minutes with their intuitive interface for any size business by simply entering images, documents, PDFs, ask ah-see into the system without code.
Levity focuses on providing end-to-end solutions and is able to integrate with all the tools users use on a daily basis. Users can define any category or label they want on the platform and train the system as needed. Users can start building their own datasets at any time, even if they don't have any data. Levity has an integrated labeling system and several pre-trained models that can be used out of the box.
Unlike many other software tools, Levity doesn't charge "per seat" and user companies can use the system for free across the organization. This allows clients to provide the same abilities to anyone in their team at no additional cost.
Use Case — Testing the Ad Performance
Here is an example of Levity's ability to test the effectiveness of ads.
Every company wants to test how effective the ads they publish are. One of the commonly used methods is A/B testing. Some companies test hundreds of ad groups every month. Not only is A/B testing costly, but it can also cause ad fatigue among potential customers and in the worst case scenario, loss of trust in the brand.
Levity's system solves this problem by helping companies predict the effectiveness of their ads before they are tested. Levity trains a custom AI model based on the historical performance of the ad set.
The company's non-technical staff simply feeds the ad images or copies into the system and can predict which ad groups will perform better before publishing the ads. The whole process is fully automated.
How to identify no-code AI?
To determine whether a system provides no-code AI functions, it is mainly based on the following points:
Tools that enable users to build solutions from scratch that previously required one or more (ML) engineers to build. That is, it can still be used without any historical data.
No-code AI systems create value for users and companies of all sizes — not just an enterprise-grade developer tool.
Available to non-technical people — this is essentially the core of the no-code movement.
As a reminder, don't get hung up on using AI solutions. If other methods can achieve the same results faster and more economically, then go with other means. After all, AI is just one of the tools that can help you achieve your company's goals.