Q&A - Autonomous Driving Company Mobileye files for secret IPO KellyOnTech
Posted by

Date

April 11, 2022

Comments

0 comment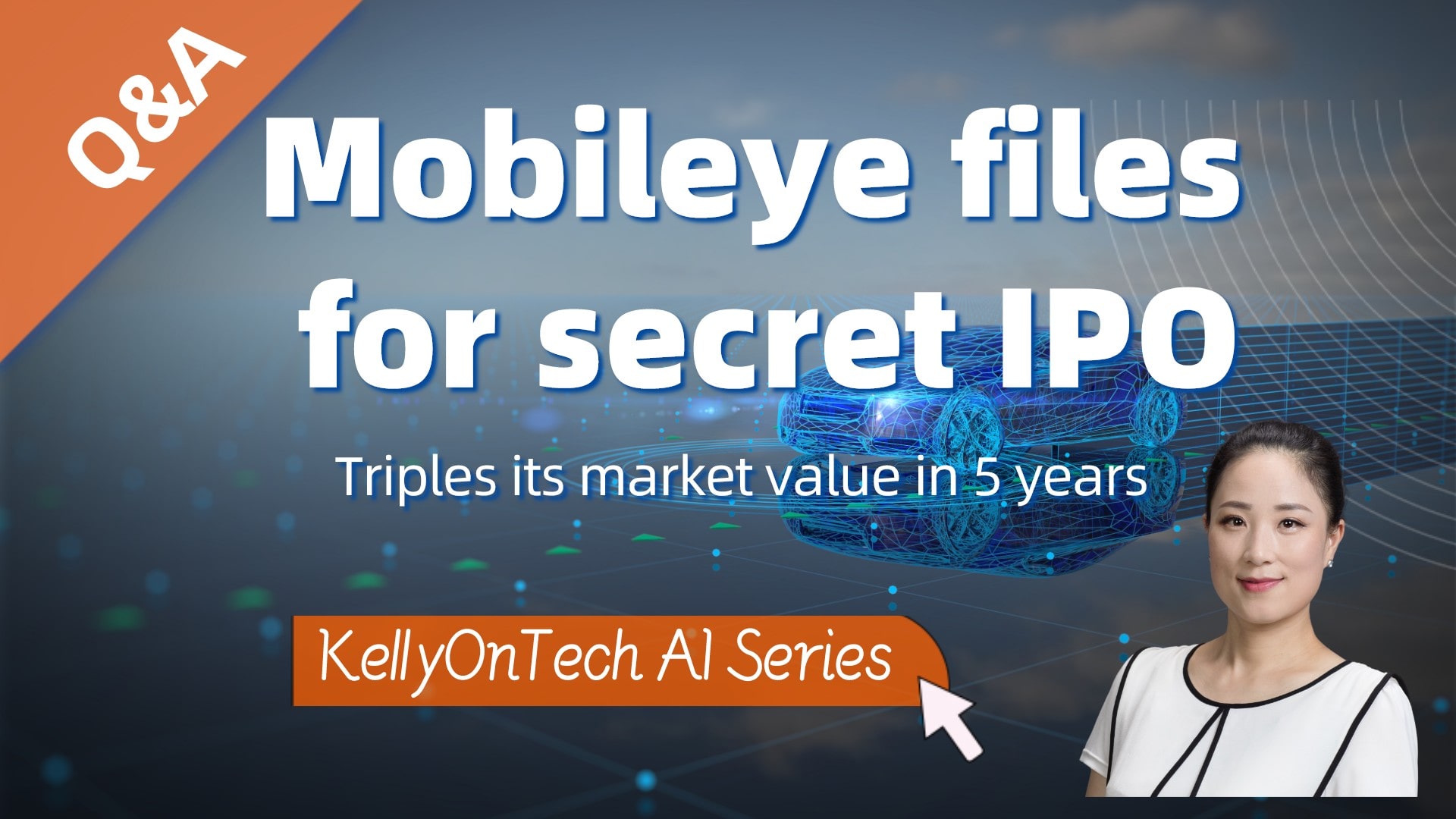 This issue answers questions about the autonomous driving company Mobileye.
Mobileye is an Israeli company founded in Jerusalem in 1999 and is currently valued at nearly $50 billion. That's more than triple the $15 billion Intel paid for the company five years ago.
What technical advantages does Mobileye have?
One of the major difficulties of autonomous driving is providing accurate machine-readable maps. If you are interested, you can view it in the video list.
Mobileye is best known for its chips that power advanced driver assistance systems, and Mobileye's forte happens to be making accurate maps for autonomous driving, independent of any third party. Unlike traditional static maps, Mobileye offers what it calls REM (Road Experience Management) mapping system, which contains a dynamic driving history of individual drivers on any given road to better inform the decision-making process for autonomous driving.
In addition, Mobileye uses artificial intelligence algorithms to extract only valid information. The data is not stored in the form of videos or images, but as compressed text, with approximately 10 kilobytes of data collected per kilometre. This data can be accessed through the cloud, providing real-time updates on the drivable path ahead.
Is Mobileye worth this valuation?
Mobileye had sales of $358 million in 2016 and shipped 100 million computer vision processor chips, EyeQ, in 2021, meaning 100 million cars worldwide use Mobileye's technology. Mobileye's 2021 revenue reached $1.4 billion, according to estimates from research firm Morning Stars.
The global autonomous driving rankings are named annually, and Mobileye has been upgraded from the ranks of Contender in 2019 to the ranks of Leaders in 2020. In addition, China's Baidu has also entered the leaders category.
What's new with Mobileye?
Mobileye has partnered with automakers such as BMW, Nissan and Volkswagen to collect data from the cars they sell. Now Mobileye receives more than 25 million kilometres of dynamic map data every day. Mobileye has used all of this information to create an accurate, high-definition map database, which it named the Mobileye Roadbook.
Mobileye has partnered with Chinese automaker Zeekr to develop an all-electric self-driving car for consumers. The car will be sold in China starting in 2024 and eventually rolled out to other markets.
Mobileye also announced that it is expanding its R&D efforts in China, with plans to open a local data centre and increase its workforce there. Mobileye has been benchmarked against Waymo, the self-driving technology division of Alphabet, Google's parent company, the leader in the field of autonomous driving. The partnership comes less than a month after Waymo announced a partnership with Geely Automobile to build an all-electric self-driving net car.
What are Mobileye's considerations for filing a confidential IPO?
The Confidential IPO Filing dates back to President Obama's 2012 JOBS Act, which allowed companies with less than $1 billion in annual revenue to file S-1 IPO documents in secret. In June 2017, the $1 billion cap was removed, allowing all companies to take advantage of secret IPO filings when attempting to go public, which has been a very popular option for recent years.
Mobileye chose to file a confidential IPO primarily for reasons of timing flexibility and price range liquidity, particularly in light of the potential volatility in the stock market caused by the COVID-19 pandemic. With a secret IPO filing, the company does not have to disclose any financial information or provide how many shares it will offer in its IPO. Companies we are familiar with such as Uber and Airbnb have used this approach.
What other self-driving company has used a confidential IPO filing?
This brings us to Rivian, an autonomous driving company that went public on the NASDAQ last November 10, 2021. Rivian was founded in 2009 and headquartered in Plymouth, Minnesota. It has been hailed as the most well-funded autonomous driving startup in U.S. history, raising a total of $10.7 billion in 10 funding rounds from well-known companies such as Ford Motor and Amazon.
The star company is not yet in mass production. Its expensive electric pickup (R1T) and SUV (R1S) have received more than 55,000 pre-orders, but Rivian won't be able to deliver them all until the end of 2023. By comparison, Mobileye's 2021 sales revenue has already exceeded $1.4 billion.
If you have any further questions about Mobileye, please feel free to leave a comment.