KellyOnTech Explaining Gartner 2022 Top Strategic Technology: Generative AI
Posted by

Date

November 11, 2021

Comments

0 comment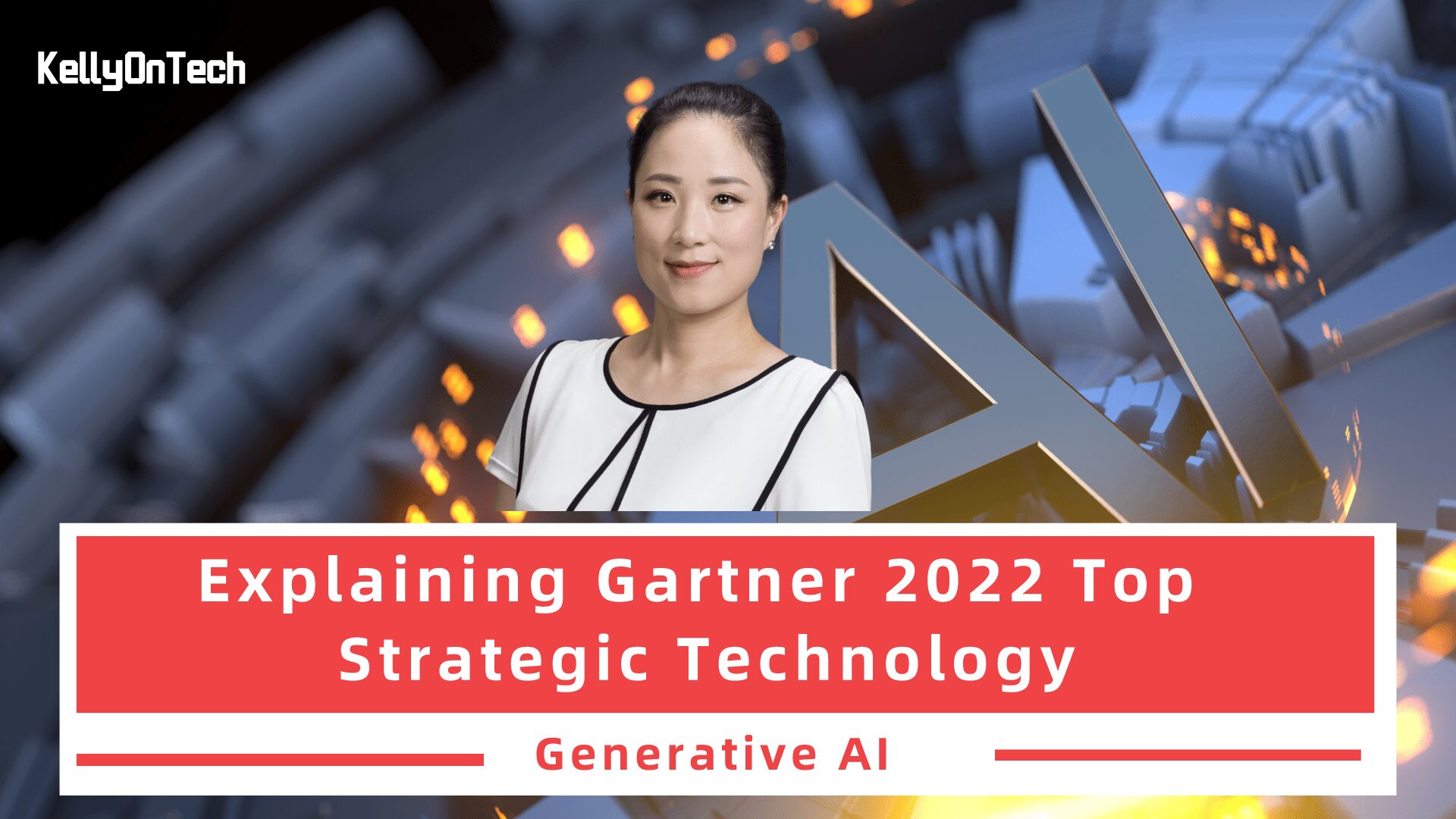 In this episode, I will talk about Generative AI.
Generative AI was listed by Gartner as one of the top strategic technologies in 2022 in a report released on October 18.
In a previous video, I have introduced why Gartner put the Internet of Behaviour as the top of the nine major technology trends in 2021. If you are interested, you can take a look.
What is Generative Artificial Intelligence?
When it comes to generative AI, it has recently exploded on the internet in the US, UK and India. So what exactly is it?
Generative AI is simply a technique in which a computer uses existing text, audio files, or images to create new and similar content.
Can content generated by artificial intelligence look like real content?
Let's first take a look at a video released in February 2021 (please see the video at the end of the article). Is the Tom Cruise in the video a real person? This video has more than 5 million views and is considered by many super fans to be a trailer for a new movie that Tom Cruise is about to shoot.
This kind of video, called Deepfakes, replaces the human face in the video with the face of the celebrity. To achieve this effect, a deep learning model is needed. The model is then trained by finding as many photos of the celebrity as possible, analyzing various expressions from all angles, and finally generating a model that contains all the expressions of the celebrity.
The reason for this resemblance is that the videos were made by Miles Fisher, (known as the world's most Tom Cruise lookalike) in late 2020. He has gained millions of fans and hundreds of millions of views as a result.
How is it achieved?
Before answering this question, let's take a look at another example of generative AI. Here are three photos. Guess which ones were generated by AI?
All three photos were generated by artificial intelligence. Did you guess it? There is a website called "ThisPersonDoesNotExist.com" where every time the page is refreshed, a photo of a person who does not exist in reality appears.
Here I introduce a concept — GANs (generative adversarial networks). In 2014, researchers used computers for the first time to create realistic human faces using GANs. How was this achieved?
The researchers set up a confrontation game in which two AIs play against each other to try to create the most realistic synthetic content. As the two AI's compete against each other, one tries to generate the best image and the other tries to detect where the generated image can be made more realistic, so that the quality of the image generated by the artificial intelligence will be continuously improved.
Which is the most promising generative AI company?
Generative AI can be used for a range of activities, such as creating software code, facilitating drug development and targeted marketing, but it can also be used for fraud, scams, political disinformation, falsifying identities, etc.
Here I introduce one of the most promising generative AI hailed by the industry — Insilico Medicine, founded in 2014 and headquartered in Hong Kong, China. The company is dedicated to extending human lifespan through research in biomarker discovery, drug development, digital medicine and aging.
Insilico Medicine has pioneered the application of generative adversarial networks (GANs) and reinforcement learning to generate new molecular structures for diseases with known and unknown targets. In 2017, Nvidia selected Insilico Medicine as one of the top five AI companies with potential for social impact. In 2018, the company was named one of the top 100 global artificial intelligence companies by CB Insights.
In July this year, Insilico Medicine and GenFleet Therapeutics, a Shanghai-based pharmaceutical company, entered into a strategic partnership. GenFleet Pharmaceuticals, a clinical-stage biotech company focused on cutting-edge therapies in oncology and immunology, will synergize its own R&D systems with Insilico Medicince's end-to-end AI drug discovery platform to jointly address novel and those more difficult targets in cancer treatment.
In August, Insilico Medicine and Westlake Pharma announced a strategic partnership to jointly develop innovative small molecule drugs against the new coronavirus (COVID-19).
According to Gartner, by 2025, 10% of the world's data will be generated by generative AI, compared to less than 1% today. As the old saying goes, seeing is believing, but as technologies like generative AI continue to evolve, are you ready to live in a world where seeing is not necessarily believing?