How has the COVID-19 epidemic impacted the chip industry
Posted by

Date

September 17, 2020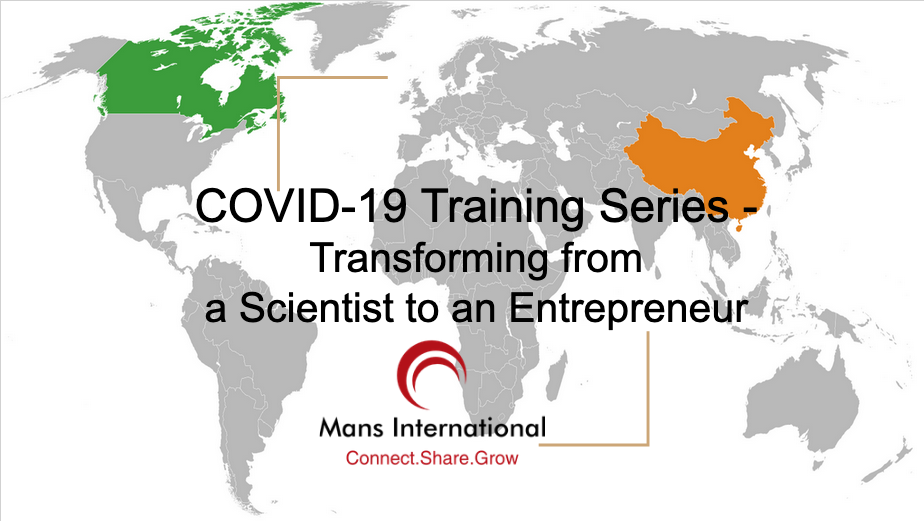 By Kelly Luo, May 27, 2020
This is the second COVID-19 training series jointly sponsored by Mans International and Beijing Changfeng Information Technology Industry Alliance. In this session, we invited a famous guest, Dr. Peng Zezhong, who is an internationally renowned integrated circuit expert.
Dr. Peng is a rare expert who has engaged in scientific research and technology for over 40 years and has more than 60 invention patents worldwide. He is the inventor of the world's original, innovative super RFID technology, X-RFID technology, and is also the inventor of the world's leading ultra-low power permanent memory, XLPM technology. No wonder people say he is that rare person with a developed left and right brain.
Additionally, Dr. Peng is known for commercializing technologies. His credits include:
– Founder of Kilopass Technology, a well-known Silicon Valley company in the United States, whose main business is the design and service of integrated circuits IP Core. As we know 70% of the DRAM in mobile phones and computers worldwide uses XPM patented technology. In 2018, it was acquired by Synopsys (Nasdaq: SNPS), an internationally renowned integrated circuit company. Synopsys is the top three EDA software design companies in the upstream chip design field. The other two are Cadence, Mentor Graphics.
– Founder of Silicon Blue Technology, a well-known Silicon Valley company in the United States. Its main business is the development and application of lower power and lower cost FPGA chips. In 2012, it was acquired by internationally renowned integrated circuit company Lattice Semiconductor (Lattice, NASDAQ: LSCC).
This training series session included conversations on topics that were of interest to a diverse audience. Our first topic was, "How has the COVID-19 epidemic impacted the chip industry?"
Dr. Peng first provided an overview of the current industry.
On May 5, this year, the US Department of Commerce website published the strictest policy to date to restrict Huawei. If you are a service provider related to Huawei's chips, and to some extent use the technology in the US regulatory list, then whether you are an American company or want to do business with Huawei, you must first apply for a license from the US Department of Commerce.
As we know the chip industry is currently one of the most globalized and finest divisions of labour.
Status and pain points of China's chip industry
China has been lagging behind the United States, South Korea, Japan, Taiwan and Europe in terms of the design level and production level of high-end chips (CPU, GPU, communications, Memories, FPGA in mid-to-high-end semiconductor manufacture equipment and testing equipment and in EDA tools).
However, as the government has begun to increase its support in recent years, the pace of catching up is getting faster and faster. If China insists on five to ten years or even fifteen to twenty years, China has the hope of catching up or partially surpassing.
The impact on China's chip industry
The COVID-19 epidemic has had a great impact on both domestic and international market demand, and it has weakened the supply capacity of the industrial chain.
Opportunities and challenges
China's chip market currently accounts for about ⅓ of the world's chip demand. As the Chinese government control of the COVID-19 epidemic was effective, it began to gradually resume work after February 26. It may take another three to nine months for the other countries to fully recover. This is also an opportunity for domestic enterprises to develop rapidly.
During this time, the cost of buying equipment and building a factory may be lower.
The company's next development strategy
Dr. Peng stated that they have been focusing on the RFID chip field for 15 years, from the beginning to catching up with and surpassing the product level of the three major international manufacturers.
Kiloway is dedicated to becoming the best value RFID chip, XLPM® memory technology and solution provider in China.
Kiloway would like to knock on the door of customers with the international advanced level chip products and accelerate the development of next-generation products, striving to become the leader in the RFID chip industry within three to five years and IPO on the Science and Technology Board.
RFID chips have been widely used in the following sectors:
1. Rail Transit
Equipment patrol inspection intelligent management system
Intelligent management system for tools
Smart goods yard IoT system
2. Aviation
Baggage sorting and tracking
Freight Logistics Tracking System
Intelligent management system for tools
Equipment patrol inspection intelligent management system
3. Medical industry
Medical Consumables Management System
Biological reagent management system
Assisted reproductive management system
4. Smart Agriculture
Agricultural Products Anti-counterfeiting Traceability Platform
Beef breeding traceability management system
Pig slaughtering information system
Information system for traceability of poultry eggs
5.Smart City
RFID file management system
RFID traceability anti-counterfeiting platform
RFID police equipment management
RFID Municipal Asset Management
6. Other applications:
RFID asset management
RFID warehouse logistics management
RFID anti-counterfeiting traceability management
RFID smart manufacturing
RFID Book Archive Management
The chip industry has never been a closed industry. Although the United States has suppressed other countries through various channels, under the current circumstances, only a wider range of international cooperation and healthy market competition can recover the entire industry more quickly from the COVID-19 epidemic.