How Companies Survive During COVID-19 Epidemic
Posted by

Date

September 17, 2020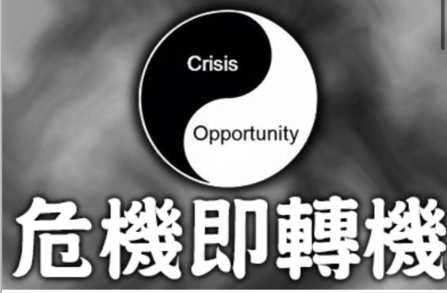 In 2016, CNBC interviewed the famous entrepreneur 
Li Ka-shing
 and asked him what would be the most critical question for running a business? "Maintaining a healthy cash flow" Li responded.
The new outbreak of COVID-19 in China is the sudden black swan, which has hit all walks of life in China. If the income of SMEs has fallen sharply due to the COVID-19, how can they survive the crisis?
The industries most affected by this recent crisis include catering, tourism, cinema .etc. According to data from the "Report on the Impact of the COVID-19 Epidemic on China's Catering Industry in 2020", the revenue loss reached 500 billion yuan in the 7 days of the spring festival break (January 25–31). Tsinghua University and Peking University jointly surveyed 995 SMEs to evaluate the epidemic situation. Although this sample was not big, the results are statistically valid. One of these questions asked was "How long can cash on account be affected by pneumonia?"
More than a third of companies (34%) responded that they could only last for one month.
They could last for two months, 33.1%.
They could last for three months, 17.91%
They could last for four months, 1.61%
They could last for five months, 3.42%
They could last for six months or above, 9.96%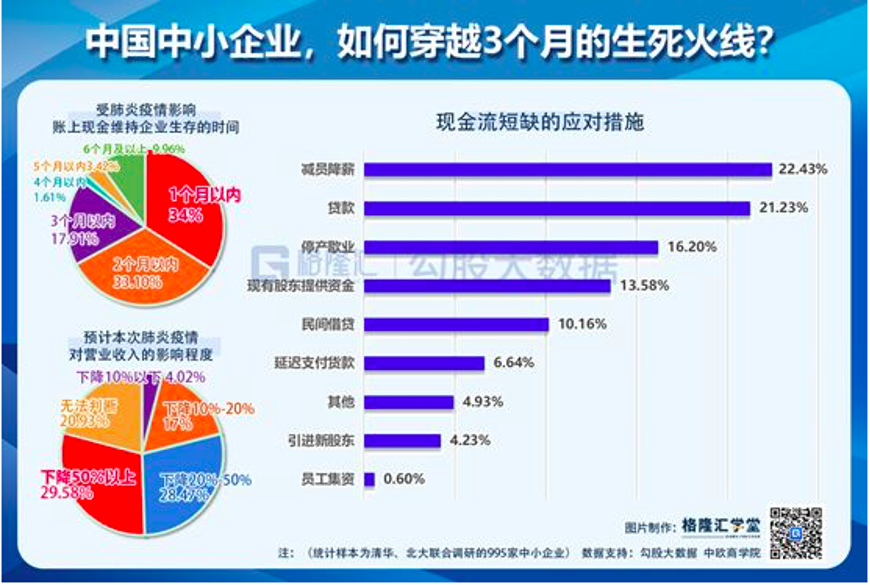 This means that the cash and equivalents of 85% of companies can only last for up to three months. Some companies have already gone bankrupt.
Many companies have adopted layoffs to reduce costs. But the epidemic will pass, and the cost of rehiring and the time it takes to rehire is high. It also takes time to train new staff to collaborate effectively with the existing team. Panasonic provided effective methods during the Great Depression beginning in 1929: Instead of laying off employees, Panasonic adopted the method of reducing production, working hours and wages by half. In addition, all employees, including executives, went out to sell inventory. Through these methods, Panasonic not only survived the difficulties but also established a sense of belonging between employees and the company.
The impact of the epidemic on real estate sales has also been dramatic. As of February 11, the transaction area of commercial buildings in 30 large and medium-sized cities was 50,400 square metres, only about 10% of the same period last year.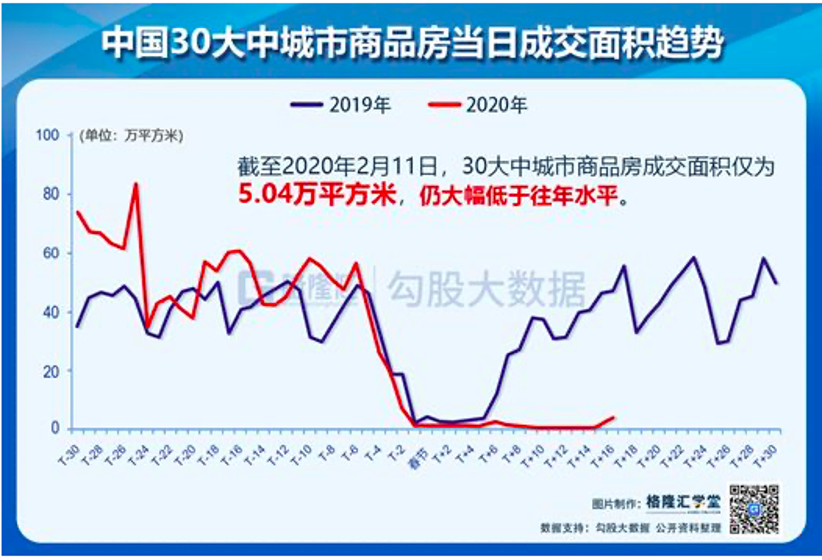 In the face of this crisis, many companies are thinking about how to increase revenue and reduce expenditures. One example is Evergrande Real Estate Group Limited who designed new marketing campaigns to boost its sales. Evergrande launched an APP called "Evergrande Hengfangtong" and sells houses at a discount of 25%. Within three days they had more than 40,000 subscriptions, corresponding to a house price of 58 billion yuan (equivalent to 11 billion Canadian dollars), and soon acquired over three million registered potential buyers.
How did they achieve such impressive results within a short time frame? The theme of their main marketing campaign was called "Teaching You How to Make Money at Home". It included two ways:
1. Pay 5000 yuan subscription fee now:
 a. 5,000 yuan to earn 20,000 yuan: buy a house yourself by May 10, 2020, the house price will be reduced by an additional 20,000 yuan
 b. 5,000 yuan to earn 10,000 yuan:recommend others to buy a house, get 1% commission, and an additional 10,000 yuan as a reward
 c. 5,000 yuan to earn 5,000 yuan: if your subscribed property is purchased by others, you can receive 5,000 yuan compensation
 d. 5000 yuan to earn 500 yuan: if you recommended 5 groups of potential customers to view the house using the app by May 10, you can earn 500 yuan.
If the user hasn't completed any of the above four tasks, all 5000 yuan will be returned to the user on May 10, 2020.
The subscription fee is defined as follows: "The buyer pays the subscription fee to obtain the right of first refusal within the agreed period. Within the agreed time, the seller must not sell the house to others. If the buyer decides not to buy, the seller should refund the subscription fee. However, if the buyer inconveniences the seller by reserving the property but then fails to buy it within the prescribed period, the subscription fee becomes a non-refundable deposit, paid to the seller as compensation.
2. If you don't want to pay a 5,000 yuan subscription, then become a part-time salesperson of Evergrande:
a. Invite new user rewards: Invite new users to sign up for the app, each with a reward of 10 yuan; if you invite users to invite others to register, you can get another 5 yuan reward.
b. Incentives for recommending buyers: You recommend potential customers and you can get 100 yuan for each transaction. What's attractive is that if you recommend a total of 15 groups of potential customers, but only one group of customers bought a suite, you get a commission of 15X100 yuan, totalling 1,500 yuan. Each transaction does not exceed 2,000 yuan.
c. Recommended transaction reward: If you happen to have a friend who is planning to buy a house immediately, you can get a 1% commission on the transaction.
In order to dispel the doubts of potential buyers, Evergrande also launched a 100% refundable policy. After all, there might be some problems you cannot detect by using AR technologies to check the house online.
One might ask whether this marketing method really makes money? According to estimates from the local real estate industry insider @ 牧 诗:
Evergrande's advertising costs were about 300 million yuan. From February 13th, the number of subscriptions has exceeded 100,000, with a total value of about 58 billion yuan. Assuming the conversion rate of the online subscription is 70%, the sales turnover will reach 70,000 units, and 60 billion yuan in sales. If each buyer makes a down payment of ⅓ of the house price on average, Evergrande will receive 20 billion yuan cash. In addition, the new 3 million + potential buyers can bring revenues in the future.
Evergrande's mobile app has not only eased its cash flow problem during the epidemic period by acquiring subscription fees. It also promotes the brand through this wave of advertising.
Besides thinking out of the box to increase revenues, Mr. Liu Songbo, a professor at the Department of Personnel and Labor of the Renmin University of China, made several suggestions on how to solve cash flow problems and motivate existing employees:
1. Raising money internally: When a company is in trouble, the capital's bargaining power is usually strong, and external shareholders may depress the stock price, which is not cost-effective for good companies. Huawei's approach was crowdfunding of employees, which not only raises funds but also motivates employees. From 2006 to 2013, Huawei raised more than 27 billion yuan (5.11 billion Canadian dollars) internally. If employees are optimistic about the company's prospects, they will trust their company and invest in it. This is also a test for business owners on how to tell a good vision and a capital story to its employees.
2. Motivate employees with future money: Promise employees to participate in profit sharing. Again still using Huawei as an example, in the year 2000, in order to deal with the global Internet bubble crisis, Huawei proposed the reform of "virtual restricted stocks" to its employees. The approach was to design an employee evaluation system. Based on the score, employees obtain a certain percentage of options. The exercise period is four years, and ¼ of the annual redemption quota is set according to the net asset value at the end of the current year. The so-called virtual equity can enjoy certain dividend rights and value-added rights, but without ownership and voting rights, it cannot be transferred and sold. When employees leave Huawei, they automatically expire and can only be repurchased by the company, which is essentially an excess profit dividend.
3. Other methods: employee survival. The panic caused by the epidemic has also brought employees attention to their health. If some companies have additional cash flow, they can increase medical insurance for employees, purchase face masks and other epidemic prevention products for employees, provide transportation subsidies, and offer insurance or physical examination services for employees' close family members, all of which will improve employees' sense of belonging to the company.
In fact, not only during the outbreak of the COVID-19 epidemic, at any time for enterprises, especially SMEs and start-ups, maintaining stable and positive cash flow is the key to company operations. At the same time, creative and effective marketing campaigns are essential for any company to acquire customers and increase sales. In modern society, talent is one of the company's most important assets. How to effectively attract and retain talent, as well as improve the efficiency and loyalty of employees is significant to every company.