Transforming from a Scientist to an Entrepreneur
Posted by

Date

September 16, 2020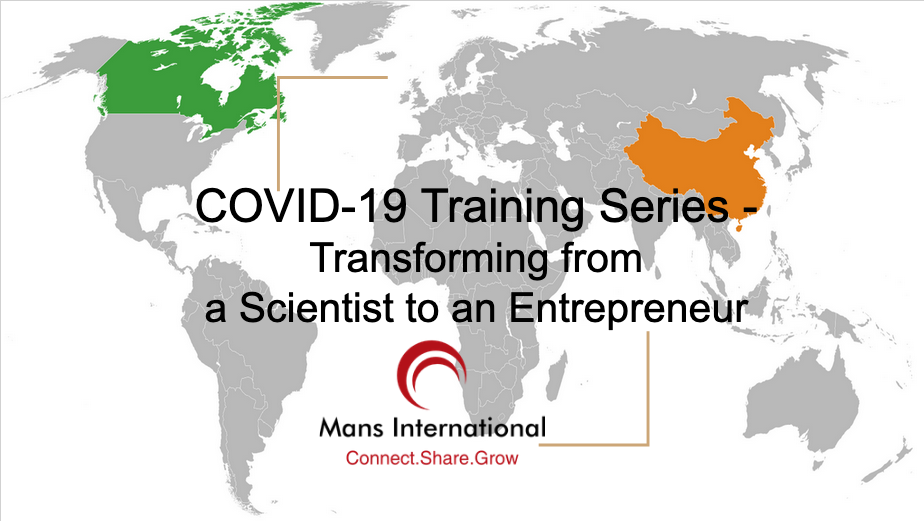 This is part two of the second COVID-19 training series jointly sponsored by Mans International and Beijing Changfeng Information Technology Industry Alliance. In this session, we invited a famous guest, Dr. Peng Zezhong, who is an internationally renowned integrated circuit expert.
Dr. Peng is a rare expert who has engaged in scientific research and technology for over 40 years and has more than 60 invention patents worldwide. He is the inventor of the world's original, innovative super RFID technology, X-RFID technology, and is also the inventor of the world's leading ultra-low power permanent memory, XLPM technology.
The audience was particularly interested in how Dr. Peng transformed from an inventor and scientist to become a successful entrepreneur. Dr. Peng responded to the audience's questions.
You have so many patents, how did you choose which patented technology to commercialize?
As we know the invention patents that use company resources should belong to the service invention, the patent rights should belong to the company. The XPO (Super Permanent Memory) I invented in 2001 was founded in the United States as Kilo pass Technology (OTP IP) in order to find a replacement for the Laser Optical Data Card used in the US green card.
I invented the patent of X-FPGA switch that can be programmed many times in 2003 ~ 2004 and founded Silicon Blue Technology (low power and low-cost FPGA), which was separated from Kilopass. In 2007, I invented XLPM, and safe, reliable, low-cost RFID in order to solve the core memory low power consumption problem, which is the core technology of Kiloway.
Why did you decide to found your own company instead of licensing or selling patents to other companies?
There are specialized individuals, companies, and research institutes that only write patents, and then transfer them to other companies for product and industrialization. I am a person who likes to invent and likes to convert technology into products and industrialize it. Innovation is relatively easy. It takes a few days, to several months, to a few years to create innovation, but it is very difficult to start a business, often takes five to fifteen years. In the process of starting a business, you must be forced to innovate continuously before you can reach the peak of technology.
From a scientist to an entrepreneur, what difficulties did you encounter? How did you overcome the difficulties?
Strictly speaking, I should not be called a scientist. It should be more appropriate to call me a technical expert. Engaging in science or technology is relatively simple compared to become an entrepreneur (wholeheartedly along a bumpy path, or even climbing up the cliff). Entrepreneurs need to identify the target market, apply the technology, produce products, source funds, build teams, and understand business operations. As an entrepreneur, I also need to bear certain financial, legal, and policy risks. Successful entrepreneurs are often survivors who have a firm belief, continuous efforts, and perseverance. You should believe, persevere, be optimistic and accountable.
What is the difference between founding a company in Silicon Valley and building one in China?
Dr. Peng covered the four areas he thought were critical to success.
Twenty years ago, to found a tech company was less difficult in Silicon Valley. But in the past five to ten years, financing in China has been easier. But for cutting-edge innovative technologies, financing in China is still relatively difficult. Local VCs are reluctant to invest in early-stage projects. They need to see MVPs, or actual products, or even orders and revenues before they consider an investment. Moreover, most VC investment terms require bets and/or repurchases. Some risk-tolerant investors would invest small amounts of money and require a relatively large share of equity, which poses risks for later financing and team holdings, which is not conducive to the company's long-term development.
Government or agency support
There are basically no government investment agencies in Silicon Valley. On the contrary, the government's entrepreneurial funds are relatively active in China, which has played a positive role in encouraging and promoting the implementation of high-tech projects. But government funds have some problems that need improvement:
1. Auditing is more demanding than regular VCs. In particular, as soon as the person in charge of the project leaves, the project generally requires a re-examination, and sometimes the previously signed agreement is not honoured.
2. The capital withdrawal process is very complicated and long.
Marketing and business development
In the United States or Silicon Valley, as long as the technology and products are the best or first-class, it is easier to obtain orders and occupy the market. In China, especially for government and state-owned enterprise projects, relationships and channel resources are often more important than the product itself. But for fully market-oriented projects, the advantages of the product can highlight the advantages.
Now the exit of startups is basically the same in Silicon Valley and in China: mergers and acquisitions, or IPO. At present, GEM (Growth Enterprise Market), New Third Board and the regional stock market, which are established for the financing and listing of high-tech companies in China, as well as the stock market in Hong Kong. These are conducive to promoting the development of high-tech companies.
Dr. Peng is known for commercializing technologies. His credits include:
Founder of Kilopass Technology, a well-known Silicon Valley company in the United States, whose main business is the design and service of integrated circuits IP Core. As we know 70% of the DRAM in mobile phones and computers worldwide uses XPM patented technology. In 2018, it was acquired by Synopsys (Nasdaq: SNPS), an internationally renowned integrated circuit company. Synopsys is the top three EDA software design companies in the upstream chip design field. The other two are Cadence, Mentor Graphics.
Founder of Silicon Blue Technology, a well-known Silicon Valley company in the United States. Its main business is the development and application of lower power and lower cost FPGA chips. In 2012, it was acquired by internationally renowned integrated circuit company Lattice Semiconductor (Lattice, NASDAQ: LSCC).
Read the first part of the session.