Q&A - Bionic chips: Qualcomm and Apple start chip wars KellyOnTech
Posted by

Date

April 28, 2022

Comments

0 comment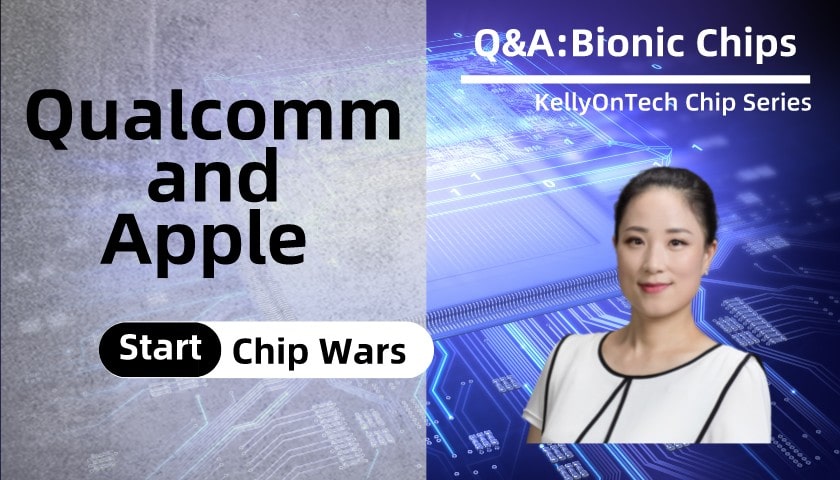 What are bionic chips?
Bionic chips are also known as multi-core system chips and are mainly designed to save battery life. I use Apple's bionic chips as an example. Apple has used bionic chips in all of its phones since the iPhone 8. The Bionic chip has four high-efficiency cores and two high-performance cores. Most of the time, the high-efficiency cores are used. However, high-performance cores are used when process-intensive tasks such as video playback are activated.
The iPhone 13 series is equipped with the A15 bionic chip developed by Apple. It adopts the industry's most advanced 5nm process technology and integrates 15 billion transistors. They have also improved the performance of the machine learning accelerator in the CPU. Apple said that it is the fastest CPU in a smartphone with 50 percent faster graphics processing for all types of machine learning tasks, and can perform 15.8 trillion operations per second, up from 11 trillion per second in the A14.
Why develop bionic chips?
This brings us to the combination of trends in the computing industry. There has been an explosion in data and, in turn, an explosion in the data centres required to store all this information. Humans have no way to process so much information, so we use machines to do so. Therefore, our need for complex machine learning algorithms has grown exponentially. But as Moore's Law slows down, the growth in computing power can't keep up with our needs.
Let's talk about the trend of the chip industry. In order to reduce the dependence on traditional chip manufacturers such as Qualcomm, AMD, and Intel as early as more than a decade ago, major companies like Amazon, Google, Facebook, etc. began to establish their own chip teams and design their own proprietary chips. The Arm architecture is generally used.
How do traditional chip giants respond?
Let's take Qualcomm as an example. In March 2021, Qualcomm spent $1.4 billion to acquire Nuvia, a two-year-old chip startup. One of the reasons was because of Nuvia's strong team, known as the iron triangle of the chip industry.
The Founding Team of Nuvia
Nuvia 2019 was founded in Santa Clara, California by three former Apple engineers.
Gerard Williams III — Co-Founder and CEO, Nuvia, Sr VP Engineering Senior Vice President of Engineering. Gerard previously spent 12 years at ARM and 9 years at Apple as the lead architect for custom processors for the iPhone and iPad.
John Bruno — Co-Founder, Nuvia, VP of Engineering at Qualcomm. John is an excellent system architect. He worked at AMD for 8 years, Apple for 5 years, Google for 1 year and 4 months, delivering the most important IT part of the chip, the CPU.
Manu Gulati is a great SOC Micro-Architect. He used to work at Apple for 7 years, Google for 1 year and 11 months. His job was to put the chips together. In addition, he is very familiar with mobile hardware.
Although all three founders have backgrounds in mobile chipsets, they started Nuvia with other ideas. Nuvia has always been secretive and rarely discloses its R&D progress. Their main focus is on solving the conceptual data centre (i.e. cloud computing) and finding more energy-efficient ways to deal with the rising costs and environmental and climate impacts of machine learning workflows and compute-intensive processing.
The Investors of Nuvia
Nuvia's investors not only have a deep technical background, but also have strong financial resources. These include Capricorn Investment Group. The fund focuses on investing in technology companies that have a positive impact on the world, and its portfolio includes Tesla and Planet Labs. Other investors include Dell Technologies Capital (DTC) and Mayfield.
Apple Sued Gerard Williams
By the way, Apple sued Nuvia's co-founder Gerard Williams for using his work time to conceive Nuvia and convince other Apple employees to leave the company and join Nuvia while he was at Apple. The Santa Clara County Superior Court accepted the petition. Of course, Gerard also filed a countersuit against Apple, stating that Apple illegally monitored his text messages while he was working there. And that the chips that were later developed at Nuvia were targeted at data centres.
Why did Qualcomm buy Nuvia?
In addition to the strong founding team, Qualcomm acquired Nuvia in order to lay out 5G, further accelerate the convergence of mobile and computing on top of its own Snapdragon technology, and create a new high-performance computing platform.