THE PROBLEMS ENTERPRISES FACING IN AN ERA OF MOBILITY
With advances in mobility at workplaces, enterprises are increasingly decentralized and devices are increasingly diverse. Securing the corporate data becomes more challenging than ever before.
How to efficiently manage the diversity of devices?
How to obtain real-time status data and remotely monitor device usage?
How to secure and maintain corporate data on mobile devices, even when devices are damaged, lost, or stolen?
How to quickly troubleshoot device issues remotely?
How to minimize IT operational costs as well as provide efficient support to enterprise mobility?
THE SOLUTION MANAGES ALL DEVICES SMARTLY PRODUCT FEATURES

This is an intelligent unified endpoint management solution. Its highly scalable architecture can provide different deployment solutions per users' requests; and it can quickly expand server clusters when demand grows. It can efficiently handle concurrent requests and heavy applications deployment of millions of class devices, such as application push installation and file management. Our solution uses a self-developed communication algorithm to improve the interaction between devices and servers while maintaining service quality through efficient task allocation and exchange algorithms. Our system works closely with Google and major global OEMs, and it obtains a deep control API of Android bottom layer, which makes our system compatible with all models of Android 4.4-10, without any additional ROM customization and development.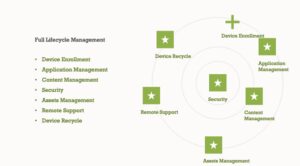 PRODUCT FEATURES

Mobile Asset Management: Centralized management of equipment, Online device statistics, Real-time access to device information
Mobile Security Management: Data encryption, VPN, APP black and white list, APP security management, Mail management, Applications unified push, Custom device interface, Enterprise internal file synchronization, Authentication, Enterprise firewall, Wi-Fi security management
Mobile Operation and Maintenance Management: Remote control, Remote repair, Solve device problems in real-time
OUR EXISTING GLOBAL CUSTOMERS
Changi airport group, Singapore
P&G and Shisheido, China
Petron, Malaysia
Ultratune, Australia
Grupo Salinas and CEF, Mexico