Business Thinking Training Camp (Offline)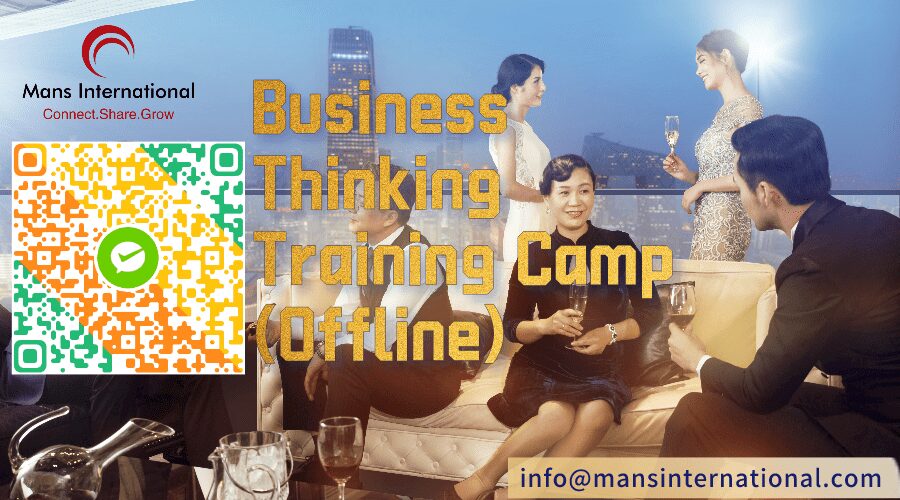 Welcome to the Mans International Business Thinking Training Camp. This is one of our popular series of companion growth training programs.
I'm sorry to tell you that no one but yourself can grow on your behalf, make judgments in the face of things and bear the consequences of your own choices.
So we must be responsible for ourselves. Be your own boss!
If we compare ourselves as a product, then how to better understand the product – ourselves, build our own brand image, possess core competitive advantages, and have a true and reasonable expectation of ourselves is critical to our lives.
Why Business Thinking Is Important
Each of us lives in a business world, and all aspects of our lives are closely related to business. The key factors for our success or failure include:
How to go deep into the real situation of the problem and find out the root cause of a problem
Whether you can understand and grasp the specific constraints, and fully consider and evaluate the visible factors and hidden factors
Everyone needs to see the essence of what happened around us through the phenomena, and continue to cultivate our business acumen and rational thinking ability.
Benefits
This is a one-day offline training course. You will have the opportunity to have close contact with students from all over the world and participate in our annual offline sharing session.
Business concepts and theories that have been verified and practiced by economists, companies and successful business people for centuries.
Optimize your way of thinking, calmly deal with various problems in life and work
Understand the differences in thinking between the East and the West, and learn the essence
Establish deep links with friends participating in the training camp from all over the world
On-site promotion opportunities-self-introduction + introduction of products and services you choose
In the next 50 years or longer, we will gather once a year and continue to learn together, grow together, live calmly, and enjoy the beauty of our life!
Mans International Member Benefits
Annual fee members can enjoy a 50% discount
Monthly fee member are entitled to a 20% discount
Student Benefits
The outstanding students selected by all the students, if they wish, will be accepted by Mans International as the project manager of the annual meeting. (The project manager will have the opportunity to participate in organizing events held in other countries and automatically join our project dividend plan)
Excellent annual meeting project managers will have the opportunity to join the city partner training program of Mans International "Be Your Own Boss" Program
Course Features
Lectures

1

Quizzes

0

Students

201

Assessments

Yes
You May Like